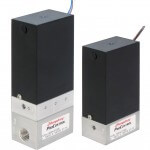 The Humphrey Valve product line now includes the new ProControl Regulators. Expanding the ProControl family to go a step beyond single valves, Humphrey now adds the ProControl pressure regulator series of products.
ProControl Series Regulators provide closed-loop proportional pressure control by incorporating a unique, dual proportional valve design. This achieves superior pressure regulation control, including:
Very quiet operation
Ideal for any work environment, particularly medical and laboratory applications.
Long service life compared to competitive models using ON/OFF valves for supply and/or venting control.
Greater responsiveness and stability at dynamic inlet and outlet pressure applications.
Typical applications include:
Medical / analytical
Leak testing
Direct control of pressurized air and inert gases (consult factory for special gases and liquids)
Small bore cylinder operation
Packaging
For more information about these ProControl Regulators, contact Diffley-Wright; (800) 282-4886