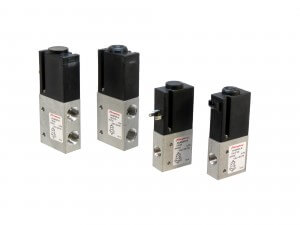 Humphrey offers 6 types of balanced valves; 3-port and 4-port types in three sizes. These valves offer exceptional versatility.
The Balanced Solenoid Valve Series is an universal balanced design valve, offering several benefits:
EASE of USE. All electric and pneumatic connections are on opposing surfaces, minimizing total space occupied, and simplifying mounting and connections during installation.
MULTI-PURPOSE. The Series is versatile with its many functions: Normally Closed or Normally Open; 2- or 3-way; Diverter or Selector; pressure range of vacuum to 125 PSIG.
RELIABLE SHIFT, TIGHT SEAL. Internal forces generated by the pressurized media are neutralized. The shifting forces of the coil and return spring are optimized and need only seal the poppet to our tight leakage specifications.
MULTI-MEDIA. The Series' balanced poppet design performs whether the media is air or inert gases, clean, dry, lubricated, or contains some airline impurities.
HIGH FLOW CAPACITY. Internal flow path management has been maximized. Coupled with the balanced design and an optimized solenoid magnetic circuit, significantly greater flow, within a reduced overall size, has been achieved.
For more information, contact your Authorized Humphrey Distributor:
Diffley-Wright
(800) 282-4886